By Jeff John
Keeping a rifle at the ready these days is an option many consider wise, and Hornady's new Rapid Rack solves a major safety and operational concern. Rapid Rack is a disposable bolt handle, range flag and empty chamber indicator rolled into one item.
One of the AR platform's faults is the charging handle, which I consider a contraption. Add an optic to your AR, and the handle is often awkward to use. I find with the rifle held muzzle down—as it might be in my home—the charging handle is very difficult to access, especially with my strong hand.
Assuming safe storage—a consideration for another article—the ability to put the rifle into action quickly is paramount. The worst option is to have the rifle loaded and ready to go. Too many bad things can happen if the rifle is stored with a round in the chamber.
With the Rapid Rack installed over a loaded magazine, a quick yank on the red handle and the rifle is charged. Rapid Rack works well because it has a rim held by the bolt's extractor. When the rifle is charged, the ejector helps launch the RR free; let it fall and go to work. An added plus is the unit holds the bolt partially open so the device doubles as an empty chamber indicator and range flag.
If you get one, practice with it. I was initially startled a bit by the RR flying free of the rifle. It's not something I'm accustomed to when putting a firearm into operation. But the learning curve is quick.
Rapid Rack is available for AR's in .223 and .308, including one fitting some 12-gauge semi-auto shotguns for $11.99 to $13.99.
The Rapid Rack has a rim just like a .223 cartridge. It engages the bolt's
extractor, and its departure is assisted by the ejector. Pull the rifle's
T-handle back and the Rapid Rack ejects like a spent cartridge.
Hornady's new Rapid Rack adds a simple bolt handle to quickly charge the
.223 AR rifle. The device also serves as an empty chamber indicator and
range flag.
Hornady
P.O. Box 1848
Grand Island, NE 68802
(308) 382-1390
www.hornady.com
Read More Quartermaster Reviews
Purchase A PDF Download Of The September 2016 Issue Now!
We think you'd be interested in this, too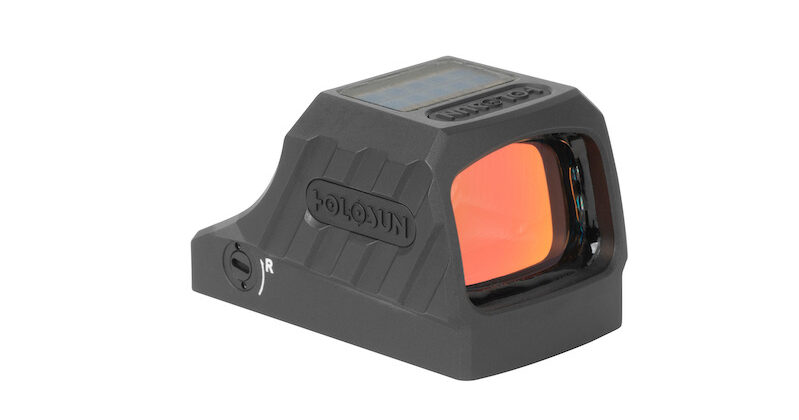 Holosun SCS 320...
---
The wait is over. One of the most anticipated new optics previewed at SHOT Show earlier this year — the Holoson SCS 320 — is now available.
Snake Shot...
---
Are snake shot cartridges useful, or are they a gimmick? Roy Huntington talks about his experiences, including his tests on the deadly potato!
5.11 Rush RBD ...
---
I needed a discreet duffle capable of holding all the flotsam a traveling editor carries — boots, rain gear, hearing protection, external microphones and...