Might Be All You Need.
Like most rifle shooters, I've gone through more than one evolution regarding equipment — especially rifles and scopes. I started out with iron sights, moved on to scopes on my first centerfire rifles (vintage Lymans in 4X and 6X), then on to variables, which were, I thought, the ultimate in sighting gear for a young man's high-powered rifle. Jack O'Connor favored a 4X scope on his beloved .270, way back in the '50's. Times change; technology has given the shooters new optics with better durability and more power in good, American-made scopes. The Remington 700 BDL in 7mm magnum I wanted cried out for a 3-9X or 4-12X variable.
Later on in my shooting career I was fortunate enough to have the opportunity to hunt big game overseas as well as stateside. Most all of the animals I've hunted, overseas as well as stateside, weren't taken with long-range shots. Most fell at probably 150 yards or less.
Two Marlin 336 leverguns, both with fixed-power scopes. Top is a .308,
wearing a 4X Leupold. Bottom is a .30-30 that has a Lyman 3X mounted. No
more power is necessary to maximize the capabilities of either caliber.
A Leupold 6x42mm on a well-used custom .270. All the power you need, with
the clarity, brightness and optical simplicity of a fixed-power scope added.
An awesome plains-game rifle and scope.
Variable Scopes
Variables make sense. There's a range of magnification available with just a quick turn of the power ring. You can match your power to the game you're hunting or the distance you're shooting. Hunt with the scope set on a lower power in heavy brush or dial the magnification up for ammo testing at the bench. The variable scope is versatile, especially for the 1-rifle hunter.
Like most scopes made today, a variable is more rugged, with better glass than its predecessors. Light gathering ability compared to a scope made just 20 years ago is greatly improved. Lens coatings are also superior now. Newer scopes tend to be more compact, with less moving parts than previously. Less moving parts mean a stronger scope. And the shooter can choose a 30mm tube as well as the standard 1″ diameter. "Tactical" as well as hunting variables with lighted reticles, powered by batteries, are also produced by just about everyone who makes or imports optics.
Another improvement is the huge range of powers now available. We aren't wedded to the 3-9X, 2-7X or 4-12X anymore. You can buy just about any range of magnification you desire — within reason. It's truly a buyer's market when it comes to a variable scope to use on your
favorite rifle.
I guess it's pretty obvious why a variable should be mounted on your next rifle. They're more versatile, rugged, with better glass and come in a wide selection of powers, finishes, reticles and options. Variables are available from very cheap to mucho expensive, and every price point in between. The military favors them. So why buy something found on your grandfather's rifle?
Fixed power scopes have also benefited from most all of the improvements made on variables. Current models are much better scopes than a generation ago. Improved lens coatings have made a big difference in brightness and clarity on fixed scopes; durability, improved metals and more compact dimensions have made the newer fixed optics more viable and desirable. Compare a Leupold M8 4X from 25 years ago to a new 4X Leupold FX-II and you'll quickly see the difference.
Fixed powers are easier to mount on a rifle. Some long-action bolt guns can be difficult when trying to get the correct ring spacing for your scope. Savage long-action bolt guns will need extension rings with some scopes. This makes for a less than ideal situation both in efficiency and looks. With most fixed scopes, though, this isn't an issue. Not having a power-selection ring gives the shooter more leeway in mounting the scope and being able to use a wider selection of rings and mounts.
Eye relief isn't an issue with fixed power scopes — it tends to be longer and less critical than with a variable. This could be an issue with a heavy-recoiling rifle. Field of view is better on a fixed power scope as well.
The versatility advantage of the variable is somewhat overrated. Shooters tend to buy equipment for possibilities that don't usually occur — the long shot in Wyoming on a once in a lifetime antelope hunt isn't a good reason to scope your faithful '06 with a 4-16X variable with side focus and a 30mm tube. A good quality 4X or 6X will still get the job done out to 300 or 400 yards on big game — taking shots further is probably not a good idea and not fair to the animal, no matter what gear you have.
I think what draws me to the fixed power scope for most of my shooting now is the simplicity and ruggedness. I usually hunt with my variables set at 4X — if there's more time, on a longer shot, I can up the power. Usually I don't, and leave it alone. An elk is a big animal — a 3-9X, set at nine power, isn't needed on a 200-yard shot. A simple 4X will do the job.
An issue with some variables is point of impact change when changing the power setting. This usually happens with cheaper scopes, but I've seen it happen to more than one very expensive scope. Heavy recoil tends to shake up and ruin a variable quicker than a fixed power scope, too. A .300 magnum (or even a light '06) can be very hard on optics; a 4X or 6X as a back up would go with me on an expensive hunt. A spare scope in detachable rings, pre-zeroed, makes a lot of sense.
Weaver's fixed 6X, mounted on a Remington 700 .223 in Talley rings. A
couple of generations ago, a 6X was considered about right for most varmint
hunting. Bob hasn't yet felt the need to mount a scope with more magnification.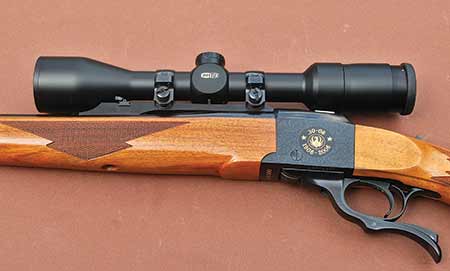 A Meopta 6x42mm on a Ruger .30-06 single-shot. This rifle/scope combo would
be fine for use in a tree stand. This would be thought of as a fine "stalking
rifle" and scope in Europe.
What Power?
Always try to match the magnification of your scope to the caliber and the shooting you'll do. Many shooters make the mistake of buying too much scope for their rifle. With some exceptions, less is usually better. I have a beautiful 10X Lyman that has been completely rebuilt, with new seals and a new reticle. I bought it and had it serviced with the intention of mounting it on my Remington 700 in .223, which now has a nice 6X Weaver on top. I haven't put the Lyman on the Remington yet, because the Weaver has worked out well, with plenty of magnification for the shooting I'm doing. If I get a heavy barreled varminter in the future, the 10X will be a
good match.
I have been slowly replacing my variables on most of my centerfire rifles with fixed power scopes. The gradual process has educated me on how much power I actually need in a riflescope. My all-time favorite is a good 4X for the majority of my shooting. The 4X works very well on two of my .30-06's and a Marlin .308. On longer-range guns, like my .270 and a .25-06, I prefer a 6X. I also like a 6X (Meopta) with a 42mm objective on a Ruger No. 1 .30-06 — I use this one for stand hunting. The 42mm objective coupled with a German #4 reticle (3 heavy posts, with thin crosshairs in the center) make for an excellent scope in early morning and late evening hunting.
The 2.5X and 3X are good scopes for a .30-30 or other shorter-range levergun calibers. They're short, compact and fit a lever action receiver well. Mounted low over the bore, they're also a very fast scope for woods hunting. A Marlin 336 in .30-30 with a Weaver 2.5X has been my "go-to" rifle for Texas whitetails of late.
I'll always have a few variable scopes around. They have a place on more than one of my rifles. But I like the simplicity of my fixed-power equipped centerfires, though. No possibility of a too-high power setting when taking a shot, or worrying about a point of impact shift. I could be very happy with a .30-06 and a 4X scope for most of my hunting. A .25-06 and a 6X would handle the rest.
A Leupold 3-9x40mm, mounted on a Sako .25-06. A typical quality US-made variable.
A 3-9X is now the most popular riflescope in the US.
A 6x42mm Leupold on top of a Browning A-bolt in .223. The 6X makes a great scope
for a lightweight "walk-about" varmint rifle like the A-bolt.
Manufacturers Making Fixed Powers
Because of the popularity of variables, it's difficult to find a good selection of fixed power scopes now. Manufacturers respond to what sells, and a 4X or 6X isn't what the rifleman of today wants. The 3-9X is king in US scope sales — the fixed 4X, once the most popular scope with American hunters, is almost extinct. And many of the manufacturers of the past, like Lyman, the old US-made steel-tube Weavers and Redfield are out of the scope business (Leupold now produces a less expensive line of variables under the Redfield name). Sadly, both Zeiss and Schmidt & Bender have discontinued their 4X scopes, which were optically superb. Schmidt & Bender still produces their 6, 7, 8 and 10X scopes; very pricey but absolutely the best optically you can buy.
There are some good choices still out there, though. One way is to look for a used scope; I've found several gently used Lymans on the Internet and they've worked out well. You've got to do your research here — patience and knowledge of your product are essential. Something to remember is some of the older scopes are probably close to the end of their service lives and might need a tune-up. There are companies who specialize in servicing the older scopes. Be prepared to shell out some cash — the servicing isn't cheap.
Better to buy a new one, unless you must have a classic scope to match your 60's-era FN Mauser. The newer scopes are better in light gathering ability due to far superior lens coatings, have better sealing and most come with 1/4-MOA adjustments.
Leupold has the widest selection of fixed powers and probably the best warranty in the business; send it back and Leupold will fix it, no questions asked (or they will replace it). Leupold doesn't care who bought it — if their name is on it, they'll take care of it, for a very nominal fee. Leupold still makes outstanding 2.5X, 4X and 6X scopes. They have also re-introduced their 3X, which can be ordered through their custom shop. And you can buy a used Leupold, send it back if it needs service and change the reticle while it's at the factory. You're still ahead of the game. You can't go wrong with Leupold.
Meopta (from the Czech Republic) makes excellent glass and builds a very nice 6x42mm. It's a big scope, but the optics and quality are first-rate. I have one that goes back and forth between two Ruger single-shots; I ordered it with a German #4 reticle. It works well for early morning and late evening shots.
Probably the best fixed power scopes for the money now are produced by Weaver. These are made in Japan and are quality telescopic sights. They're light, durable and built with excellent glass. All the Weaver scopes have adequate eye relief and 1/4-MOA increment adjustments. And they're inexpensive (not "cheap"), considering the quality. Weaver also has a great warranty. I own several and am impressed with the optics and brightness. Unfortunately, my favorite, the 2.5X, has been discontinued. It was the perfect scope for a .30-30 lever-action carbine that's used at less than 200 yards. 
By Robert Kolesar
For More Info:
Leupold & Stevens
www.leupold.com
(800) 583-7653
Meopta
www.meopta.com
(631) 436-5900
Weaver
www.weaveroptics.com
(800) 379-1732
Schmidt & Bender
www.schmidtbender.com
(603) 287-4832
Looking For More?
Order Your Copy Of The GUNS Magazine 2015 Special Edition Now!
We think you'd be interested in this, too
Gunsite Update
---
Lots of things are happening at Gunsite Academy. In this week's episode, host Brent T. Wheat checks in with CEO Ken P. Campbell about the changes.
KOR Technik 3S...
---
Imagine the impossible dream of always having a perfect foam cushion for your precious firearms during travel, regardless of what the gun du jour happens to...
Maybe It's The...
---
Reporting on high-profile — or maybe just highly publicized — shooting tragedies often has a side benefit: Occasionally one gets to hear a local lawman,...